PACTware bids farewell to Dr. Joachim Schullerer after 19 years of honorary board activity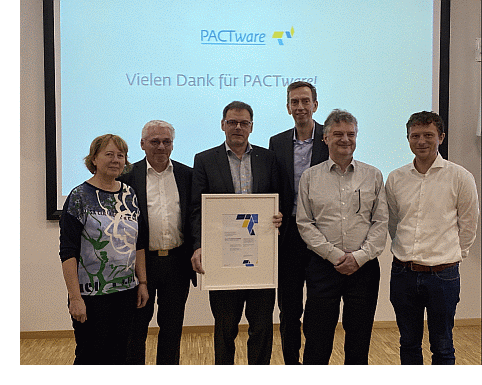 He came, recognized and directed
Nobody loves it, but everybody needs it: The configuration of measuring instruments is a tiresome duty for plant engineers. Especially when each manufacturer does his own thing. There was a noticeable remedy in 2001, when Dr. Joachim Schullerer came into play and founded the "PACTware Consortium".
Many saw that the proliferation of configuration tools on the market urgently needed to be stopped - but only a few put it into practice. Dr. Joachim Schullerer was one of those who unwaveringly pursued this goal for over 20 years. At least since the foundation of the PACTware Consortium in 2001, the name Schullerer has stood for vision in the integration of field instruments. He set standards in the standardization of the software interface. No easy undertaking.
First chairman, now honorary chairman
Dr. Joachim Schullerer had the idea for the manufacturer-independent software, created the network for implementation in the form of a consortium of companies and directed the success as its chairman. And he did what was probably the most urgent thing: he brought the most important manufacturers in the industry under one roof. His position at PACTware, which he had held since 2001, is now taken over by his successor Holger Sack. The manager intends to remain an active member of the PACTware Consortium e.V. Thus he gratefully accepted his appointment as honorary chairman.
Thank you with applause
When the participants bid farewell to their PACTware CEO at the recent general meeting, their long lasting applause was for the consistency and enthusiasm with which Schullerer had pursued his vision. This was also emphasized by founding member Michael Kessler, Executive Vice President at Pepperl+Fuchs, in his laudatory speech: "Joachim's idea to create an open software architecture for the fieldbus world was revolutionary. His work and his enthusiasm created the basis on which we can continue to reliably develop devices for our customers to this day".
"Freeware" for Future
Despite the use of standardized interfaces, PACTware still offers the 23 member companies much individual freedom to optimally configure and analyze their instruments. The clear winners are the customers, especially system and plant manufacturers, who can breathe a sigh of relief. Instruments are once again competing on their technical advantages rather than on the possibilities and quality of their integration. Because that is guaranteed. "Uniformity across manufacturer boundaries was the guiding idea that has been the basis of PACTware's success to this day", emphasized Kessler. And as the designated executive board member, Holger Sack also left no doubt that "openness will also shape the future of PACTware - in line with Joachim Schullerer's vision".